Taking a family portrait is a Christmas tradition for many families. When it comes to choosing the background for your family Christmas photos, there are plenty of choices. Here are some background ideas for Christmas family portrait shooting.

Traditional Christmas Scenes
A traditional Christmas scene is the perfect background for your family portrait. No matter you are at a professional studio or taking photos at home, decorated Christmas tree, fireplace, garland and beautiful color lights are all the ideal backgrounds for family photo. Pose everyone in front of the Christmas tree and fireplace and show the most beautiful smile.


Christmas Fairytale Backdrops
Christmas backdrops don't need to be an actual scene with items in it, sometimes what we are looking for is a fairytale background. Every child maybe have imagined that Santa is pulling a sled to give presents. Consider having the entire family, even the cute pet dog, pose in front of the moon and reindeer background as if they are awaiting for Santa's arrival.


Beautiful Winter Snow Scenes
A winter scene is a great background for a Christmas photo, and snowflakes are always the beautiful decoration. If you live in an area without snow, or there isn't any snow when you plan to take your Christmas photos, don't fret. You can use a Christmas Snowflake Decoration Backdrop to create winter snow scene. Wear your Santa hats and every snuggle together to take a happy family portrait.


Add Props to Christmas Backgrounds
If you want to make your Christmas portrait background stand out, then add some props, such as wrapped presents, Christmas tree ornaments, stockings, etc. It will be better to wear same color family outfit when posing in front of the beautiful background. Sit down and show the most beautiful smile, capture the happy family moment with camera.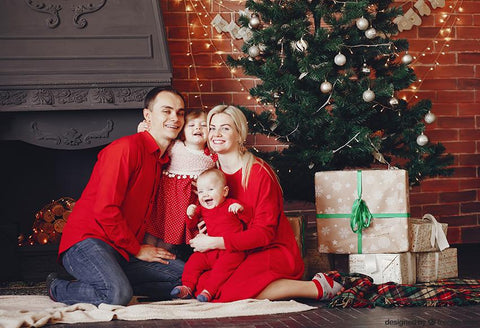 The point of taking a Christmas family photo is to record happy memories. Pick the backdrop that fits the holiday theme, and have everyone show their smiles.
Backdrops Used: